Affect in the Black Humanities: Review of Black Love, Black Hate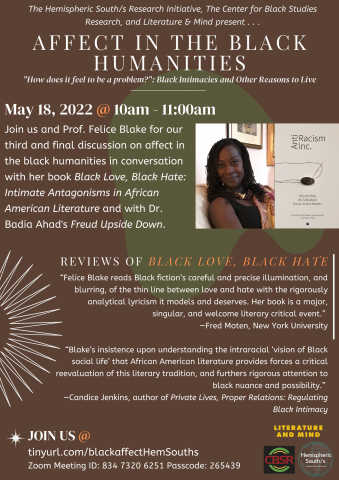 10:00AM
ZOOM
Join us and Prof. Felice Blake for our third and final discussion on affect in the black humanities in conversation with her book Black Love, Black Hate:Intimate Antagonisms in African American Literature and with Dr. Badia Ahad's Freud Upside Down.
REVIEWS OF BLACK LOVE. BLACK HATE
"Felice Blake reads Black fiction's careful and precise illumination, and blurring, of the thin line between love and hate with the rigorously analytical lyricism it models and deserves. Her book is a major singular, and welcome literary critical event.
-Fred Moten, New York University
 
"Blake's insistence upon understanding the intraracial vision of Black social life' that African American literature provides forces a critical reevaluation of this literary tradition, and furthers rigorous attention to black nuance and possibility.
-Candice Jenkins, author of Private Lives, Proper Relations: Regulating Black Intimacy
JOIN US @
LITERATURE AND MIND
tinyurl.com/blackaffectHemSouths
Zoom Meeting ID: 834 7320 6251 Passcode: 265439