Postdoctoral Scholar In Arts, Humanities, Stem Or Social Sciences With A Focus On Black Studies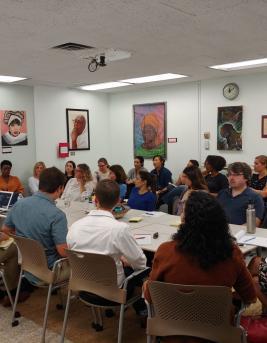 The Center for Black Studies Research at the University of California Santa Barbara invites applications for two postdoctoral researcher positions for the academic year 2020-21
Description
The Center for Black Studies Research at the University of California Santa Barbara invites applications for two postdoctoral researcher positions for the academic year 2020-21. The research areas may include the fields and disciplines within Arts, Humanities, STEM or Social Sciences with a focus on Black Studies and/or Black communities in the African Diaspora (Asia, Africa, North America, South America, Antarctica, Europe and Australia/Oceania). Part of the Fellowship (25%) is devoted to developing the Center's programs, which may involve mentoring undergraduate research fellows. No teaching is required. The fellowship will provide a salary based on the candidate's qualifications. Research and travel allowance may be provided. Health insurance will be provided. This position is a 12-month appointment beginning July 1, 2020 with a possibility of 2nd year appointment, upon evaluation.
Basic qualifications:
Applicants must have completed all of the requirements for a Ph.D., except for the dissertation (all but dissertation) at the time of application in social sciences, arts, humanities or STEM.
Additional qualifications:
Ph.D. conferral by June 15, 2020
Research in at least one of the following areas: Black/African American Studies, Black Communities, or any focus on the African Diaspora.
Preferred qualifications:
Knowledge or experience in quantitative and/or qualitative methodologies Ability to interact and work collaboratively
Ability to work with undergraduates
Ability to work independently
Applicants must submit a cover letter indicating research interests and experiences; Curriculum Vitae; a writing sample (dissertation chapter, refereed journal article, or refereed conference proceeding); and three references (contact information only) via the online application. https://recruit.ap.ucsb.edu/JPF01615
Deadline:
Applications received by January 3, 2020, will be given primary consideration, but the position will remain open until filled.
The University is especially interested in candidates who can contribute to the diversity and excellence of the academic community through research, mentoring and service.
The University of California is an Equal Opportunity/Affirmative Action Employer and all qualified applicants will receive consideration for employment without regard to race, color, religion, sex, sexual orientation, gender identity, national origin, disability status, protected veteran status, or any other characteristic protected by law.
Job Locations
Santa Barbara, CA
Requirements
Document requirements
Curriculum Vitae - Your most recently updated C.V.
Cover Letter - Indicate research interests and experience
Writing Sample - Dissertation chapter, refereed journal article, or refereed conference proceeding.