Winners Announced For Cbsr Seed Grant Awards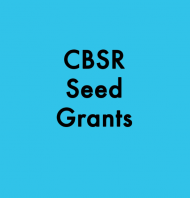 The Center for Black Studies Research (CBSR) is pleased to announce the 2019–2020 winners for the CBSR Faculty Seed Grant Award and CBSR Graduate Student Seed Grant Award
Sunday, September 1, 2019
The Center for Black Studies Research (CBSR) is pleased to announce the 2019–2020 winners for the CBSR Faculty Seed Grant Award and CBSR Graduate Student Seed Grant Award to support interdisciplinary research in Black Studies and/or Data Science with a focus on Black communities. Funds are competitive and limited. Our focus for this round of grants was on interdisciplinary research that aligned with the CBSR's research priorities. These awards are funded through the kindness of the Vice Chancellor of the Office of Research at UCSB.
2019–2020 Grant Recipients
2019–2020 CBSR Faculty Seed Grant Awardees
Jeffrey C. Stewart, "Another University IS Possible"
Terrance Wooten, "Geospatial Clustering of Registered Sex Offenders in Maryland: An Intersectional Analysis"
2019–2020 CBSR Graduate Student Seed Grant Awardees
Matthew M. Harris, "Medicine for a Nightmare: Sun Ra, Metaphysical Religion, and the Black Radical Imagination, 1946–1961"
Matthew N. Giles, "Recruiting Community-Oriented Police Officers in White Police Departments Serving Black Communities"