Stranded: Migrant Domestic Workers Seeking Justice
Eileen Boris, Ph.D.
CBSR Affiliated Faculty
Department of Feminist Studies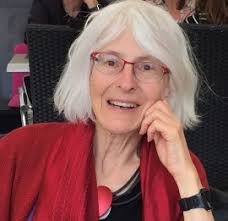 My latest project I'm calling "Stranded: Migrant Domestic Workers Seeking Justice." This research challenges the timeline about free labor under capitalism. It shows the harboring of degrees of unfreedom in what appears as wage labor by looking at domestic service/household employment in a major metropolitan areas (so far, New York and environs) and at the flows of transnational household workers in the post-WWII years. It begins with the "Second Great Migration," when domestic work was supposedly a "dying" occupation but middle-class & mothers' move into employment created a new market for such workers. Intimate labor, thus, reflected even as it reinforced inequalities. It traces legal constructions as well as worker conditions. To consider the struggle against for-profit agencies as conduits for exploitation and trafficking, I move between scales of regulation between the local (New York City), the state (New York State) and federal (Labor Department restrictions on visa for live-in "foreign maids") to chart protection of migrating workers. Though recognizing the long history of the "intelligence bureau" or labor broker, and the international conventions and discussions on the for-profit employment agency, so far I have looked at regulatory efforts in New York in the 1950s and early 1960s, including investigations against agencies like the Intercontinental Maid Service and attempts to strengthen the state licensing law by the Ad Hoc Committee on Stranded Domestic Workers spearheaded by the New York Urban League and its Black women leaders. This is work in progress so I am sure I will get to expand its scope as I continue.
After a stint at the University of Virginia in Studies in Women and Gender, I came to UCSB in 2001. UCSB has offered interdisciplinary focus, commitment to gender and ethnic studies, and an environment for doing scholarship that matters. It is an honor and a responsibility to hold the Hull Chair.
Black Living Data: From Creative Curation to Community Curriculum
Faithe Day, Ph.D.
CBSR Affiliated Faculty, 2022-2023
Department of Black Studies
Faithe J. Day has a PhD in Communication Studies from the University of Michigan and a BA in English and Digital Humanities. As a researcher, writer, and digital creative Dr. Day develops curriculum, data collection, and curation projects in collaboration with other scholars to identify critical frameworks and best practices to ensure an ethical and justice-centered approach to data curation, with a focus on Black and LGBTQIA+ Data and Discourse. Dr. Day is also the creator of the "Black Living Data Booklet" a manual and a manifesto on the ethical engagement of data on and for Black communities. This work brings greater awareness to issues of data privacy, ethics, and ownership in developing personal and community based archives, and this work is currently featured as part of the Princeton University "Visualizing the Virus" project.
Through working with students in the Student Engagement and Enrichment in Data Science (SEEDS) program, Dr. Day will expand upon the "Black Living Data Booklet" in order to create a culturally informed curriculum which focuses on teaching data and information science in a way that centers the contributions of communities of color. In addition, through research mentorship and critical engagement, students will perform a mixed method analysis of online video content, online comments sections, posts, and tweets from platforms like YouTube and TikTok. Especially as online platforms act as spaces of recognition and representation for intersectionally marginalized communities, these projects reinforce the importance of community and culture when collecting and analyzing social media data.
As the Lead Editor of the CLIR Collaborative Futures Project, Dr. Day is also committed to engaging writers and research teams in employing Afrofuturism and Queer of Color Critique in interdisciplinary collaborations. Through philosophical understandings of epistemology, hermeneutics and existentialism Dr. Day plans to engage students and participants in postmodern, speculative and/or imaginative understandings of the role of data and information in our current reality and beyond. By centering the research and contributions of Black diasporic people in the study of culture and technology, we will utilize Black feminist, queer, and decolonial frameworks to understand the ethical, cultural, and sociopolitical role that digital media and technology plays in our understanding of Black communication practices and performance both online and offline.
 
Gender, Language and Transnational Identity
Iman Djouini
CBSR Affiliated Faculty
College of Creative Studies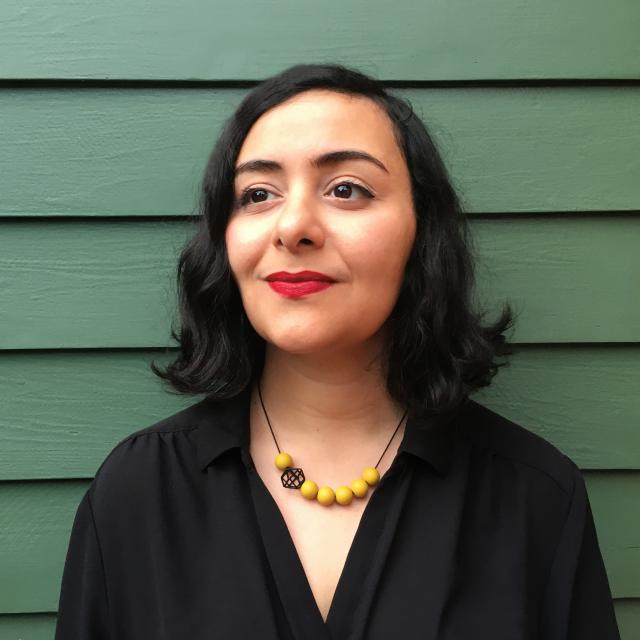 My current work explores the dislocation of language and the impact women have on the development of Darja in postcolonial Algeria, and throughout Algerian diasporic communities in Marseille, France, Washington DC, Maryland, Virginia, and Louisiana. I am interested in how women use Darja to facilitate or preserve the creolization of language, in physical and virtual spaces, and how this can provide a non-Westen perspective into the French feminist notion of écriture féminine, or "women's writing". I am inspired by the visual means of spoken, gestural and graphic forms of online communication (social media), where a playful interlacing of different languages occurs. I focus on how this manifests online with the use of typography, numbers, and emojis, to phonetically reflect diverse grammatical systems in languages like indigenous Tamazight, Semitic and Andalusian Arabic, French, Ottoman Turkish, Spanish, and English. In my series Rendre and Le Grain Magique, I use serigraphy, woodblock printing and digital fabrication to exhibit these themes while also using analog and digital mark making tools to transcribe, translate and replicate large compositions of text, image, and color, on paper and digital projection. This work has traveled in gallery and museum exhibitions, both nationally and internationally.
Employing Innovative Methods to Address Intersectional Health Disparities
Alison Cerezo, Ph.D. 
CBSR Affiliated Faculty 
Department of Counseling, Clinical, and School Psychology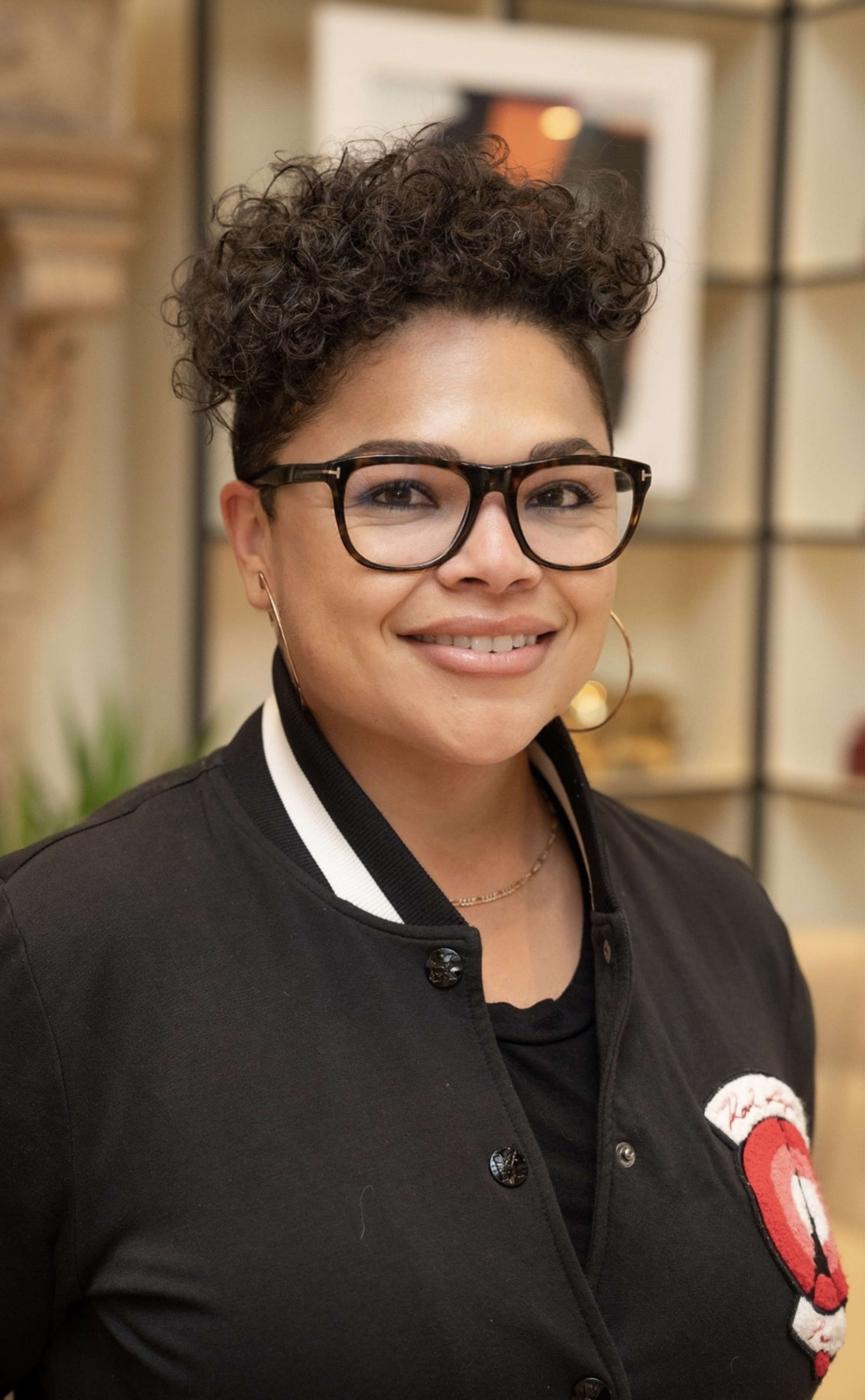 Dr. Cerezo is a health equity researcher who examines the links between stress, stigma and mental health and substance use among Black and Latinx LGBTQ+ communities. They also examine methods for removing barriers to mental health care, including linking hardly reached communities to digital health resources. Their community-partnered research has been funded by the National Institutes of Health and California Department of Public Health. Currently, Dr. Cerezo is the PI/Lead Strategy Evaluator of California's LBTQ Health Equity Initiative (2022-2025) which aims to improve health equity among sexual minority women, trans and nonbinary Californians with a specific focus on BIPOC and systems-involved community members. Dr. Cerezo also partners with industry leaders to shape digital technologies that aim to close the mental health access and treatment gap among BIPOC and LGBTQ+ communities.