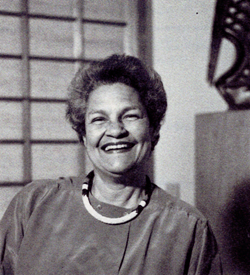 Shirley Graves Kennedy arrived in Santa Barbara in 1970 where she found a small, marginalized African American community and other people of color who faced job and housing discrimination, were excluded from the arts, and were often treated unfairly in the school system. She became involved in all these issues, as an organizer and spokeswoman and activist. After the age of 40, she completed her degree at UCSB and went on to earn a Ph.D. in Political Science in Government from Claremont University. She then became a faculty member in the UCSB Department of Black Studies and served for over ten years as the Center for Black Studies Community Affairs coordinator. During all those years, she endeavored to connect the university with the community and build bridges between town and gown, as she called it. She always understood that scholarship and research must ultimate lead to societal transformation and worked relentlessly to transform the Santa Barbara community with her commitment to social justice, activism, and democracy.  In 2000 the Santa Barbara community honored Dr. Kennedy as one of the most important city residents of the past century.
Archives
Dr. Shirley Kennedy worked tirelessly to support Santa Barbara's African American community, increase diversity in the arts, and create closer connections between UCSB and the community. Her papers and archives tell the story of an extraordinary life of dedicated service and great impact—the contributions of a local civil rights activist. As a way of honoring the struggles of the past and inspiring the activism of the future, this archive also tells the story of a political and social history of the Santa Barbara community.  Dr. Kennedy organized African Americans, other people of color, and all progressive communities united to fight against job and housing discrimination, exclusion from arts institutions, and unfair treatment in schools. The archives preserved by the Center will be housed at UCSB's Davidson Library.

This archive is part of the Center's larger oral history projects that document the work and engagement of local African American activists, educators, politicians, artists who have contributed to the struggle for human rights in the larger Santa Barbara community.
SHIRLEY KENNEDY DOCUMENTARY
It Was All of Us: Dr. Shirley Kennedy, The Life of an Activist: It was our desire to highlight the life and work of Dr. Kennedy herself in a documentary film that would showcase the life of a local civil rights leader and present a model for social activism. It is our belief that familiar models such as Dr. Martin Luther King, Jr. and César Chávez are extremely powerful icons, but it is also important to honor extraordinary lives who have local relevance.  The film gathered over 30 participants who elucidate the different areas of influence that Dr. Kennedy had in our community. It is a fitting tribute, and the hope is that those who never met her will gain inspiration and insight from watching it.
Kennedy/Graves Fund
After the passing of her own mother, Mrs. Graves, in 1983, Dr. Kennedy established a small endowment that she called the Combined Black Studies Funds to support student research on the African-American experience. The Kennedy/Graves endowment supports undergraduate and graduate students in any academic discipline who are doing research that pertains to Black Studies. The awards also recognizes engaged scholarship that promotes social justice and progressive education in our communities. Today the Division of Student Affairs is proud to support the Kennedy/Graves endowment for Academic Engagement and Activism in the spirit of Dr. Shirley Kennedy, who honored our past and inspired future change.
Shirley Kennedy Memorial Lecture
After her death in 2003, the Center for Black Studies Research established an annual lecture in her name. The Shirley Kennedy Memorial Lecture celebrates the progressive work that she did in Santa Barbara for over forty years and aims at maintaining the ideals and principles that she stood for in the continued efforts of the community to effect social change. The Shirley Kennedy Memorial Lecture bridges academic research with real community concerns. It recognizes and honors the life of an activist and scholar and educates the general public about issues of social justice.

The broad campus and community support we have received for this lecture is a testament not only to Dr. Kennedy's enduring memory but to the compelling nature of the issues that she worked on/for and was so passionate about. Past speakers include Robert Bullard (Race, Place, and Environmental Justice after Hurricane Katrina), Lani Guinier (Becoming Gentlemen: Women, Law School, and Institutional Change), Manning Marable (Speaking Truth to Power), and Beverly Daniel Tatum (Why Are All the Black Kids Sitting Together in the Cafeteria?). In 2017 Patrick Polk, Curator at the UCLA Fowler Museum, served as speaker of this annual lecture series.